Currently I am working as a Programming TA for the VFS Game Design Program and the VFS Programming for Mobile, Webs, and Games. I am also working as a coder and a writer for Candlelight Games in Yaletown, a recent start-up in Vancouver. We're making a game about revolutions that is extremely fascinating to me and that has a theme I think is very important to our times.
How can I not be enthused about working on a game that reminds me so much of one of my favourite films?
On top of that and I'm making a board game, currently titled Followers of Nahk, with Jay Cormier where I'm learning as much as I think I've ever learned about anything and all with practical hands on creation of game mechanics. All of these are great opportunities that I am immensly enjoying.
Thank you to everyone who has been playtesting. Your feedback is greatly appreciated.
I feel like this is my second year of VFS, and in many ways it reminds me of the year I completed my MFA in Creative Writing at Temple University because during that time I was teaching, researching game design, taking classes, and writing my first novel. Sometimes I was doing math too, just to stay close to sane.
Because I am on a work permit that lasts until December, I am trying to take full advantage of all the experiences I can while I am here. I don't recommend always cramming your schedule. That is actually why I am writing this article. When you do find yourself wearing many hats, it is important to keep those roles as distinct in your mind as you can, even as you search for areas of overlap.
I've met many people who are far better at multitasking than I, but I do think that these experiences and my current desire to squeeze every drop of experience I can leaves me with some important insights that might help budding students or anyone switching careers like I did. What I want to share with you are three habits that I've made, purely from intrinsic motivations, that I believe led me to have such luck with opportunities and which help me keep enjoying myself. I hope you find it helpful, or that it at least gets you thinking about how you manage your day.
1. I make it a game. I play epic win, habit RPG, and most importantly I make up productivity games as a game. The best one I came up with was actually a way to track writing I'd sent out that involved pirate ships and infamy points, though I also really enjoy playing at Imaginasium, an eccentric game I made for myself to play at the gym.
2. I try to stay grateful. Gratitude is a seriously underrated strength. Even in my moments of greatest failure, if I can remember to think back on all the positive experiences I've had, then I can overcome and try again. Enjoy your coworkers and the help and advice they give you. Love your work, and do it mindfully. There's plenty to appreciate in most cases, if you pay attention.
3. Take the right kind of breaks. Life balance is very important, and staying happy really relies on some surprising activities. I wouldn't say I'm an expert on this at all, but I do try. I think each person will find different activities helpful, but for me getting outside to the nearby scholars garden, swimming in one of the many community centres, and biking instead of always waiting on the bus has been extremely important to keeping things together.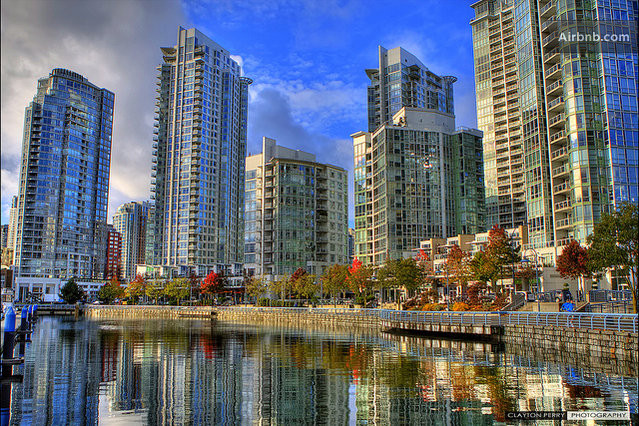 This is why I like to bike between jobs. Playtesters welcome soon. Just give us a heads up.
---
Eric "Shad" Miller is a Teaching Assistant and an alumni of VFS Game Design